Accessories Measuring Tools Oshlun 6-Inch Stainless Steel Decimal Dial Caliper - ONLY TWO LEFT - Discontinued Item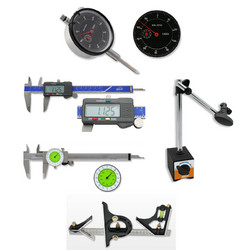 Explore a variety of measuring tools from Oshlun. These tools offer precision accuracy and incredible durability. Choose from Stainless Steel Digital Calipers, Stainless Steel Dial Calipers, Indicators and Gages, a Heavy Duty Magnetic Base, and 12" Combination sets.
Oshlun guarantees all of their products against defects in material and workmanship for the life of the product. This does not include normal wear and tear or improper usage.
FEATURES
Stainless Steel Construction
Measurement: SAE
Range per Revolution: 0.10"
4 Way Measurement: Inside | Outside | Depth | Step
Knurled Thumb Roller
Positive Lock
Plastic Storage Case
Oshlun MTDC-06 6-Inch Stainless Steel Decimal Dial Caliper Oshlun's 6-inch decimal dial caliper is made of stainless steel and comes in a plastic storage case. It features a 1-1/2-inch dial that is easy to read when taking outside, inside, depth and step measurements. The dial face or bezel can be rotated to set zero anywhere on the scale and has a bezel clamp to lock the dial in place for making deviation measurements. The range per revolution is 0.100-inch, with an accuracy of +/- 0.001-inch, graduated in 0.001-inch. Also features a knurled thumb roller, positive lock and precision ground jaws.
Three $5.00 OFF Sharpening Coupons Included with purchase.