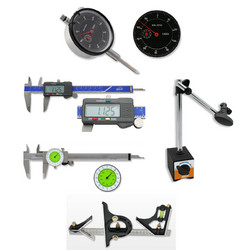 Explore a variety of measuring tools from Oshlun. These tools offer precision accuracy and incredible durability. Choose from Stainless Steel Digital Calipers, Stainless Steel Dial Calipers, Indicators and Gages, a Heavy Duty Magnetic Base, and 12" Combination sets.
Oshlun guarantees all of their products against defects in material and workmanship for the life of the product. This does not include normal wear and tear or improper usage.
FEATURES
180 lbs of Magnetic Pull
Magnetic Back and Bottom
Fine Adjustment Knob
V Grooved Bottom
Holds a 5/32" - 1/4" dia. Dial Indicator Stem or a 1/4" Lug Back Style Dial Indicator
Lever Style On/Off Switch
Heavy Duty Magnet with Extra Holding Power
Oshlun MTM-MB Heavy Duty Magnetic Base features a fine adjustment knob, a V grooved bottom, and a lever style on-off switch. It has 180 lbs. of magnetic pull and is magnetic on the back, bottom, and top. It holds a 5/32-Inch - 1/4-Inch diameter dial indicator stem or a 1/4-Inch lug back style dial indicator.
Three $5.00 OFF Sharpening Coupons Included with purchase.