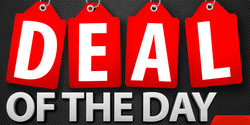 Take advantage of these daily specials!
FEATURES
Try/Miter Square
Depth Gauge
Height Gauge
Marking Gauge
Center Head
Square Head
Slotted and Etched 12" Stainless Steel Rule
Protractor Head
Double 180 Degree Protractor Scale
Plumb Level - Spirit Level - Scribe
Oshlun MTM-CS 12-Inch Combination Square Set features a slotted and etched stainless steel blade and a double 180 degree protractor scale. The set includes a square head, protractor head, and center head. It also features a try/miter square, depth gauge, height gauge, scribe, and spirit level. It is a must have for any builder and craftsman.
Three $5.00 OFF Sharpening Coupons Included with purchase.