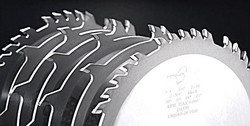 These sets come with chipper blades for a total of 13/16" width, giving you super smooth, flat bottom, splinter free cuts. This is the highest quality indistrial grade dado set you will ever use. Each set has been tested before shipping to ensure smooth cut. They are packaged securely in a wooden case. 
Sets Include:
Two 40 tooth outside trim blades
Four 1/8 inch chippers
One 1/16 inch chipper
Wooden case
Additional chippers available.
Popular Tools 10"x40 tooth Dado Set with a 1 inch hole, includes five 8 tooth chippers nestled in a wooden box. 20 degree positive face hook for easy feed. Outside trim blades have a 20 degree positive face hook. The chippers have a 0 degree face hook.
Three $5.00 OFF Sharpening Coupons Included with purchase.