Saw Blades AMANA TOOL Combination Rip & Crosscut Amana 10" x 50T Combination Rip & Crosscut Saw Blade - $15.00 OFF Sharpening Offer Included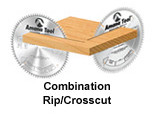 Combination Ripping & Crosscut Saw Blades
Where one blade must do almost everything ripping and crosscutting hardwood and softwood, cutting plywood this blade is a good choice. It is in the traditional combination-blade configuration, with a flat-top tooth and 4 alternate top bevel teeth in groupings of five. The large gullets at the raker tooth allow deep cuts with improved chip ejection.
Great for crosscutting and ripping hardwood, softwood, and plywood.
Extra large carbide tips providing more resharpenings.
Massive tool steel plate, with laser cut expansion slots allowing the blade to expand and contract from heat preventing warpage.
Extra large carbide teeth provide more resharpenings.
15 Degree hook 4ATB +1 Raker Grind in groupings of 5. Carbide teeth alternate left and right with the 5th tooth straight
Tension rings which maintains the blades straightness under stress of operation
Three $5.00 OFF Sharpening Coupons Included with purchase.