Deal of The Day! Deal of the Day! CMT Trial Offer - THREE 7-1/4 Inch Blades Special for the Price of Two!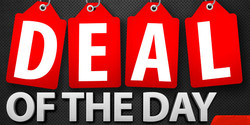 Shop our DEAL OF THE DAY, limited-time sale. Take advantage of extra savings.
Click product detail below.
In this combination you will receive TWO CMT 7-1/4"x24T Framing blades and one 7-1/4"x40T Finishing blade. That's THREE blades for the price of 2! Trial offer for a limited time only. Great Value!