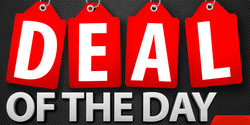 Take advantage of these daily specials!
- Fits most radial arm saws and saws with a threaded 5/8-Inch arbor shaft
- New recessed laser design to protect the laser from hitting the material on deep cuts
- New thinner design to fit more saws
- New brighter and more accurate laser line
- Includes extra set of silver oxide batteries
Warning:
Read and follow all instructions that came with your saw. Never look directly into the laser beam. Do not use if the laser guide does not secure the blade properly.
Three $5.00 OFF Sharpening Coupons Included with purchase.