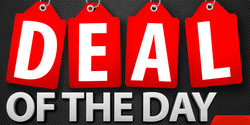 Take advantage of these daily specials!
INCLUDES: One each: THIN (SP-2TK) and THICK (SP-2) Kerf MicroJig MJ SPLITTER SteelPro Kits along with one 18-oz. CMT Formula 2050 Blade & Bit Cleaner. You save $8.00 plus it ships FREE!
These Micro Jig Steel Pro Splitter kits are made with a rigid stainless steel frame and then the steel foundation is coated with high density 100% polycarbonate. The result: one tough splitter. Micro Jig designed the MJ Splitter™ SteelPro to withstand the severe table saw use of a professional woodworking shop. Whether you're working with heavy panels or dense solid wood, the SteelPro will give you the strength to cut them with confidence and, most important, safety.
Three $5.00 OFF Sharpening Coupons Included with purchase.