Saw Blades OSHLUN SAW BLADES Aluminum & Non Ferrous Oshlun 6-1/2-Inch 56 Tooth FesPro Non Ferrous TCG Saw Blade with 20mm Arbor for DeWalt DWS520 and Makita SP6000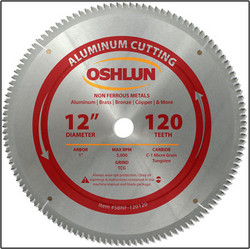 Oshlun nonferrous blades have been designed with a negative hook angle, triple chip tooth grind, and precision ground micro grain carbide tips. The specially formulated tungsten carbide lasts longer than other carbide grades and leaves burr free cuts in all types of nonferrous metals, such as: aluminum, copper, brass, bronze, and even most plastics. The 10" and larger feature copper plugged expansion slots for reduced noise and vibration while several of the smaller diameter blades feature laser cut expansion slots and heat vents for cooler operation.
WARNING:
Never attempt to cut steel or ferrous metals with these blades. It is highly recommended that you use a liquid lubricant or coolant like WD-40 when cutting nonferrous metals. Proper clamping devices should be employed.
Oshlun's FesPro blades were designed to produce industrial quality cuts at an affordable price with Festool, DeWalt, and Makita track saws. They feature micro grain tungsten carbide tips, laser cut expansion slots, and a thin kerf. The long lasting C-1 carbide tips provide a long cutting life in plastics and non ferrous metals such as aluminum. All trademarks and trade names are property of their respective owners.
Fits: DeWalt DWS520 & Makita SP6000
Max RPM: 9,500
Professional Grade C-1 Carbide
Hook Angle: -3 degrees
Kerf: 2.0mm
Three $5.00 OFF Sharpening Coupons Included with purchase.