Accessories Saw Blade Cleaner SUPER BRITE Concentrated All-Purpose Pitch & Gum Remover 1-pt.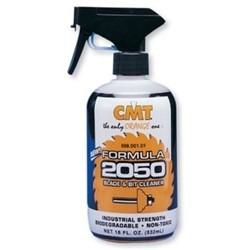 Safe, effective and environmentally friendly! Professional saw shops know that clean cutting edges run cooler, cut better and last longer. That's why we had several quality blade sharpening services test the CMT formula 2050. The results? In a word, phenomenal!
SAW BR-BRITE is a very economical powder used for removing pitch and gum. Bottle contains 3-oz. of super concentrated powder when mixed with plain tap water makes 1 to 1-1/2 gallons of solution. Soak for 10-15 minutes. Longer if necessary. Brush lightly with brass brush, rinse with clean water and dry thoroughly.
#SB-1-PT SUPER BRITE All-Purpose Pitch & Gum Remover with Spray Applicator - 1 Pint