Accessories Saw Blade Cleaner SUPER BRITE Concentrated All-Purpose Pitch & Gum Remover 1-pt.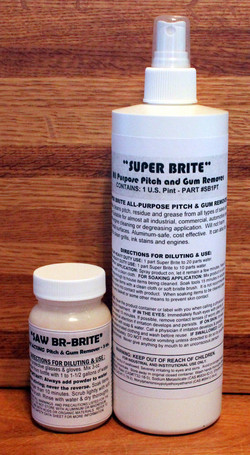 SUPER BRITE concentrate is a convenient way to maintain the high performance of your wood cutting saw blades, shaper cutters and router bits by easily removing pitch and gum. Bottle contains 16-oz. of pre-mixed solution which can be used directly on blades, etc. or also be diluted for soaking. Includes spray applicator. Follow directions for regular, heavy duty or soaking applications.
SAW BR-BRITE is a very economical powder used for removing pitch and gum. Bottle contains 3-oz. of super concentrated powder when mixed with plain tap water makes 1 to 1-1/2 gallons of solution. Soak for 10-15 minutes. Longer if necessary. Brush lightly with brass brush, rinse with clean water and dry thoroughly.
#SB-1-PT SUPER BRITE All-Purpose Pitch & Gum Remover with Spray Applicator - 1 Pint