Accessories Saw Blade Cleaner "SAW BR-BRITE" FAST ACTING Pitch and Gum Remover - 3-oz Powder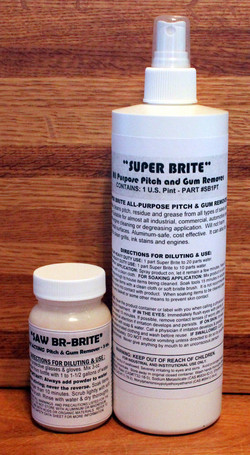 SUPER BRITE concentrate is a convenient way to maintain the high performance of your wood cutting saw blades, shaper cutters and router bits by easily removing pitch and gum. Bottle contains 16-oz. of pre-mixed solution which can be used directly on blades, etc. or also be diluted for soaking. Includes spray applicator. Follow directions for regular, heavy duty or soaking applications.
SAW BR-BRITE is a very economical powder used for removing pitch and gum. Bottle contains 3-oz. of super concentrated powder when mixed with plain tap water makes 1 to 1-1/2 gallons of solution. Soak for 10-15 minutes. Longer if necessary. Brush lightly with brass brush, rinse with clean water and dry thoroughly.
Wear protective glasses and gloves. Wash hands thoroughly after use. Mix 3-oz. powder from bottle with 1-1/2 to 2 gallons of water. IMPORTANT: Always add powder to water while stirring; never the reverse. Soak items in a plastic or rubber (NOT ALUMIMUM) container large enough to house items being cleaned no longer than 10 minutes. Scrub lightly with soft bristle brush. Rinse with water and dry thoroughly. It is NOT recommended for skin to come into contact with product. Solution may be reused until it is no longer effective. OBSERVE ALL WARNINGS AND PRECAUTIONS LISTED FOR THE PRODUCT. DO NOT STORE WITH ALUMINUM OR MAGNESIUM. DO NOT MIX WITH ACIDS OR ORGANIC MATERIALS. REFER TO MATERIAL SAFETY DATA SHEET FOR MORE INFORMATION.