Buy Forrest Saw Blades Online from Slivers Mill
SPECIAL OFFER
RECEIVE THREE $5.00 OFF SHARPENING COUPONS
with ANY ORDER!
This applies to saw blades only. Use one coupon per saw blade.
As a bonus, we will HONOR all Forrest Manufacturing, Inc. coupons. We sharpen other name brand blades along with Planer/Joiner blades, router bits, shaper cutters and much more.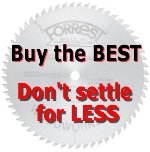 Slivers Mill, a Forrest Saw Blades distributor, aims to be the one-stop shop for all of your saw blade needs. WE ARE THE LARGEST STOCKING DISTRIBUTOR OF FORREST SAW BLADES AND WILL SHIP MOST ITEMS WITHIN 24 HOURS. We offer virtually all Forrest blades. Why? Because the quality and craftsmanship of Forrest Saw Blades are second to none.
Forrest blades offer a superior cut that leaves a rip-cut saw edge as smooth as if it had been sanded, and a cross-cut edge that is almost mark-free. The blades run very quietly, and backside tearout in plywood is negligible.
Each blade is virtually hand-made. The plate is hand-tensioned (up to 15 minutes per blade), superior C-4 carbide teeth are hand-brazed to the plate, and the blade is straightened and restraightened multiple times throughout the process.
Think of a Forest blade as a tool in your shop, not an accessory. It's been proven time and again. You'll save money in the long run by using high quality Forrest saw blades.
Buy a Forrest blade today, and see for yourself why Popular Woodworker Magazine®, Better Homes and Gardens® and Fine Woodworking® have all given Forrest saw blades a glowing recommendation.
Dia.
Bore
Teeth
TS
Kerf
Description
Price
Dia.
Bore
Teeth
TS
Kerf
Description
Price