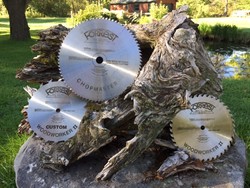 Smart craftsmen want performance and value.
Serious woodworkers count on American-made Forrest saw blades for smooth, quiet cuts, every time... without splintering, scratching or tearouts. No matter what your application, Forrest blades are simply the best money can buy. That's why discriminating craftsmen prefer them!
30-Day, Money Back Guarantee
Purchase any Forrest blade or dado and use it for up to 30 days. If you are not completely satisfied for any reason, return it for a full refund. There's never any risk to you.