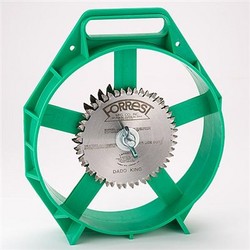 DADO KING Dado Sets have no equal! The 24 C-4 carbide tips on each trim saw are twice as many as most competitors, and the 4 C-4 carbide tips on each chipper are also twice as many as most competitors.

"Forrest Manufacturing Co. makes the only dado set with a negative hook on all its teeth, including chippers. This effectively makes the teeth cut 'up' into the wood, even when used on a tablesaw. It was the only set that cut the oak-veneered plywood without tearout and it also gave a perfectly flat bottom with a discreet little scribe"
-Jim Puterbaugh
See Fine Woodworking, July/August, 1991, p. 59

"...ruled in nearly every category of our tests"
Better Homes and Gardens, September, 2003, p. 94

Advantages of the DADO KING:
No splintering - cross-cutting oak, ply veneers and melamine

Perfect flat-bottom grooves - not staggered steps or round bottoms like a wobble-dado leaves!
Cuts in all directions - rip, cross-cut, miter, any depth
Cuts all sized grooves - 1/4" through 29/32" increments
(Set of magnetic adjusting shims also included)
Super-hard carbide - gives up to 300% longer life, especially on plywoods and abrasive particle boards
FORREST DADO KING SETS INCLUDE (with the exception of #DK0824316):
Blade runner plastic carrying case (except 12" size and DK0824316)
Two 24 tooth, carbide-tipped trim saw blades.
Four 1/8" kerf, 4 tooth chippers.
One 1/16" kerf, 4 tooth chipper.
One 3/32" kerf, 4 tooth chipper.
Two each of .010, .012, .015 magnetic shims.
Dia.
Bore
Teeth
TS
Kerf
Description
Price
This item qualifies for FREE SHIPPING in the US on orders over $49
This item qualifies for FREE SHIPPING in the US on orders over $49
This item qualifies for FREE SHIPPING in the US on orders over $49
This item qualifies for FREE SHIPPING in the US on orders over $49
This item qualifies for FREE SHIPPING in the US on orders over $49
This item qualifies for FREE SHIPPING in the US on orders over $49
This item qualifies for FREE SHIPPING in the US on orders over $49
This item qualifies for FREE SHIPPING in the US on orders over $49
This item qualifies for FREE SHIPPING in the US on orders over $49
This item qualifies for FREE SHIPPING in the US on orders over $49
This item qualifies for FREE SHIPPING in the US on orders over $49