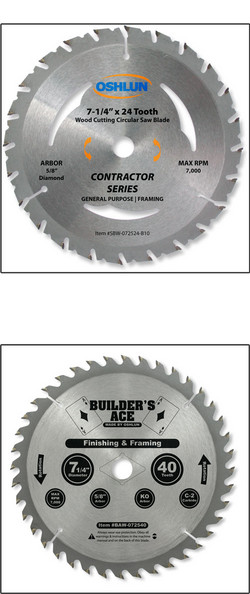 7-1/4" CONTRACTOR SERIES
Thin Kerf for Fast Cuts
Long Lasting C-2 Micro Grain Carbide
Aggressive Hook Angle
Anti-Kickback Tooth Design
Large Heat Vents
Expansion Slots to Prevent Warping
The 7-1/4" Contractor Series blade was designed for general purpose and framing work with various portable saws, including worm drives. It features an anti-kickback tooth design for added safety and large heat vents for cooler operation resulting in extended blade life. Also features a thin kerf for fast cuts, long-lasting C-2 micro grain carbide tips, and expansion slots. Great mid-level blade for general purpose work and framing jobs. Packaged 10 pcs bulk per counter display.
BUILDER'S ACE SERIES
Thin Kerf for Fast Cuts
C-2 Tungsten Carbide Tips
Aggressive Hook Angle
Alternate Top Bevel Grind
Precision Ground Carbide Tips
The Builder's Ace Series blades have been designed as a low cost option for general purpose and finishing work with various saws. They all feature C-2 tungsten carbide tips and a thin kerf for fast cuts. The 10" blades also feature expansion slots. Great blades for budget minded contractors.
Dia.
Bore
Teeth
TS
Kerf
Description
Price
This item qualifies for FREE SHIPPING in the US on orders over $49
This item qualifies for FREE SHIPPING in the US on orders over $49