Saw Blades FORREST SAW BLADES Blades for Finger Joints, Square Cut Box Joints, Rabbets, Grooves, & Dovetails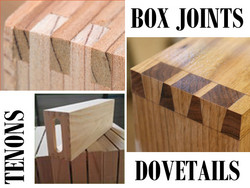 Perfect for Cutting Finger Joints, Rabbets and Grooves!
Two or four reversible, interlocking 8" blades. With 24 teeth each and a standard 5/8" bore, blades reverse to make 1/4" and 3/8" cuts and 3/16" and 5/16" cuts (Non-standard bores also available.)
Precision cutting for fine joinery. Create quality finger or box joints for jointing two pieces of wood at right angles.
Excellent for cutting rabbets (grooves). Great for doors, casement windows, window frames, accommodating panels in furniture construction and other woodworking applications. Can also be used for grooving plastics.
Solid performance. Like all Forrest blades, the 2-Piece & 4-Piece Finger Joint Sets have high-grade carbide tips and are hand straightened. Exceptional perimeter concentricity produces a flat bottom groove.
Long life. The propietary grinding techniques Forrest employs produce blades that last up to 300% longer between sharpenings. Affordable, state-of-the-art, in-factory sharpening services are available when needed.
For craftsmen who want the best! These are the only American-made, high quality finger joints sets on the market today. Ideal for fine woodworking applications and professional shops.
Choose the Customized Woodworker II with the #1 Grind for cutting flat bottom grooves, finger joints, tenons, or a dedicated rip.
For Dovetails, choose your angle and left or right tilt with the Custom Woodworker II Dovetail blade.
Dia.
Bore
Teeth
TS
Kerf
Description
Price
This item qualifies for FREE SHIPPING in the US on orders over $49
This item qualifies for FREE SHIPPING in the US on orders over $49
This item qualifies for FREE SHIPPING in the US on orders over $49
This item qualifies for FREE SHIPPING in the US on orders over $49
This item qualifies for FREE SHIPPING in the US on orders over $49
This item qualifies for FREE SHIPPING in the US on orders over $49
This item qualifies for FREE SHIPPING in the US on orders over $49
This item qualifies for FREE SHIPPING in the US on orders over $49
This item qualifies for FREE SHIPPING in the US on orders over $49