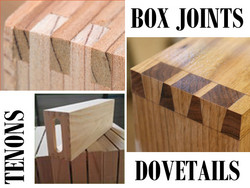 Perfect for Cutting Finger Joints, Rabbets and Grooves!
Two or four reversible, interlocking 8" blades. With 24 teeth each and a standard 5/8" bore, blades reverse to make 1/4" and 3/8" cuts and 3/16" and 5/16" cuts (Non-standard bores also available.)
Precision cutting for fine joinery. Create quality finger or box joints for jointing two pieces of wood at right angles.
Excellent for cutting rabbets (grooves). Great for doors, casement windows, window frames, accommodating panels in furniture construction and other woodworking applications. Can also be used for grooving plastics.
Solid performance. Like all Forrest blades, the 2-Piece & 4-Piece Finger Joint Sets have high-grade carbide tips and are hand straightened. Exceptional perimeter concentricity produces a flat bottom groove.
Long life. The propietary grinding techniques Forrest employs produce blades that last up to 300% longer between sharpenings. Affordable, state-of-the-art, in-factory sharpening services are available when needed.
For craftsmen who want the best! These are the only American-made, high quality finger joints sets on the market today. Ideal for fine woodworking applications and professional shops.
Choose the Customized Woodworker II with the #1 Grind for cutting flat bottom grooves, finger joints, tenons, or a dedicated rip.
For Dovetails, choose your angle and left or right tilt with the Custom Woodworker II Dovetail blade.
Specify angle and LEFT or RIGHT TILT in comment section of the check out. Two to three week lead time.
Now offering Concentrated SUPER BRITE Saw Blade Cleaner which quickly cleans pitch and grime from all types of saw blades and router bits for only $14.99. One 16 oz.. concentrate makes over 2-1/2 gallons when diluted as per instructions. Can be continually reused. Comes with convenient spray applicator, full instructions and MSDA sheet (Material Safety Data Sheet).