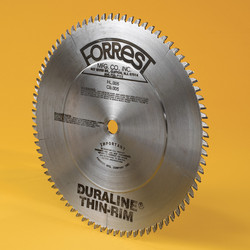 DURALINE THIN-RIMS are specially tipped with extra durable super abrasive resistant C-4 micrograin carbide for 50% to 300% longer life between sharpenings and reduced yearly sharpening costs.
The DURALINE THIN-RIM is the ideal blade for cutting fine, fragile and thin-walled material such as 1/32" to 1/4" acrylic sheets, engraving stock, curved formica sections, plastic extrusions, etc. It eliminates chopping, minimizes tooth impact and greatly reduces material waste.
Tooth Style Recommendations:
#11 (TCG Modified) - specially designed and recommended for acrylic sheets, 1 or 2 sided formica laminates, engraving stock and chippy material. Unexcelled on radial and overhead saws as it totally eliminates chipout on bottom sheet of acrylic when saw is set to break through bottom only 1/32"
#2 (TCG) - for 1-sided laminates, acrylics, phenolics, styrenes & PVC sheets
#7 (ATB) - for vinyl surfaced laminates (1 or 2 sides), particle board & fine plywood
Dia.
Bore
Teeth
TS
Kerf
Description
Price
10"
5/8"
80
#2(TCG)
.080"
10"
5/8"
80
#7(ATB)
.080"