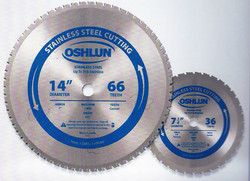 Oshlun's new cermet tipped stainless steel cutting saw blade is designed for cutting various grades of stainless steel up to 316. The 7-1/4" size can be used on portable saws. The 14" blade is to be used only on low RPM dry cut saws and will produce clean cuts with less sparking and edge burrs when compared to other cutting methods. The specially formulated cermet tips provide an extended cutting life in a material that is extremely difficult to cut. Other blade features include a tensioned and hardened steel plate with silicone resin filled anti-vibration slots for less vibration and noise. Made in Japan.
FEATURES
Premium Cermet Teeth
Silicone Resin Filled Laser Cut Anti-Vibration Slots
Surface Ground Steel Plate
Cuts Stainless Steel Up to 316
Tensioned & Hardened Steel Plate
Made in Japan
Dia.
Bore
Teeth
TS
Kerf
Description
Price
7-1/4"
5/8"
36
ATB
0.055"
This item qualifies for FREE SHIPPING in the US on orders over $49
This item qualifies for FREE SHIPPING in the US on orders over $49