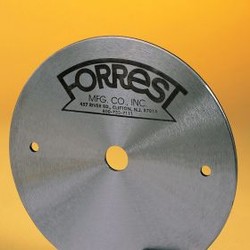 DAMPENERS/STIFFENERS are designed to provide a smoother, quieter cut.
Normally, best results are obtained by selecting one stiffener 1/2 to 2/3 the blade diameter and mounting it against the OUTSIDE of the saw blade. For example, a 10" blade uses a 5" stiffener.
10" saw blade minus 6" dampener/stiffer equals 2" depth of cut. 10" saw blade minus 5" dampener/stiffer equals 2-1/2" depth of cut.
Note: Be sure any bumps or scratch-burrs on saw blades and arbor flange, are stoned flat for dust-free FLAT metal-to-metal contact between stiffener, blade and arbor flange.
These important support discs:
Help kill saw "scream-whistle" from a vibrating blade surface
Dampen out motor and belt vibrations from being transmitted up to the rim of the teeth
Greatly reduce cutting noise
Hold blade rigid and true for better cuts on your machine
Are hardened and precision ground flat within .001" to keep your blade true
Can be removed instantly if the need occurs
MOST DAMPENER/STIFFENERS ARE IN STOCK FOR QUICK SHIPMENT!
Dia.
Bore
Teeth
TS
Kerf
Description
Price
This item qualifies for FREE SHIPPING in the US on orders over $49
This item qualifies for FREE SHIPPING in the US on orders over $49
This item qualifies for FREE SHIPPING in the US on orders over $49
This item qualifies for FREE SHIPPING in the US on orders over $49
This item qualifies for FREE SHIPPING in the US on orders over $49
This item qualifies for FREE SHIPPING in the US on orders over $49
This item qualifies for FREE SHIPPING in the US on orders over $49