Hole Saws CMT Diamond Dry Hole Saw 552 Series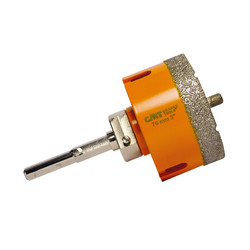 TECHNICAL FEATURES:
Special side holes.
Fast & easy center drill change.
Thin cutting edge.
Diamond grit premium grade well-shaped and extremely strong cubo-octahedral inclusion-free heat-resistant crystals delivers fast, clean cuts up to 10 times longer life.
Diamond grit edge hole saws have been specially developed for professionals that need to drill in extremely hard materials where it is increasingly difficult to drill with conventional hole saws. These hole saws guarantee excellent performance and superior lifetime!