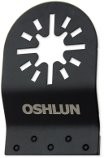 The Oshlun Uni-Fit mount system is one of the most universal on the market, allowing the blades to fit nearly all non quick-change oscillating tools.
FEIN® MultiMaster®
Bosch® Multi-X™ Uni-Fit Mount
Dremel® Multi-Max™ MM20, 6300 & 8300 Cordless
Craftsman® NEXTEC®
Skil® Multi-Tasker®
Milwaukee® M12®
Ridgid® JobMax®
Oscillating Tools with 3/8" round arbors
Notes: The Uni-Fit mount is not compatible with FEIN® SuperCut® or original Rockwell® Sonicrafter® Hex Tool unless using the OEM adapter (see note below for adapter information). Specific blades designed for these tools are also available under the MMR or MMS prefix.
The Uni-Fit mount is not compatible with quick change tools including Dremel® Multi-Max™ MM40, MM45 (Quick-Lock™ Version), Porter-Cable® PC250MTK® or PCE605K®. The Quick-Fit mount should be used for these tools.