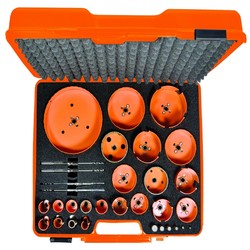 CMT offers a professional range of hole saws for electricians, carpenters, builders, kitchen fitters and all related heating, ventilation and plumbing trades. These hole saws have been specifically designed to ensure maximum lifetime and performance in all materials and applications.
The 550 series multi-purpose tungsten carbide-tipped is designed for use in a wide variety of materials such as soft and hardwoods, chipboard, plywood, MDF, plastic, gypsum/plasterboard, tiles, solid bricks and bricks with cavities, aerated concrete blocks, lightweight aggregate blocks and breeze blocks, soft density lime-sandstone building blocks (max 30 N/mm2 hardness).
Series 551, bimetal PLUS 8% cobalt hole saws have a special tooth geometry with regular pitch provides a smoother cut and better chip clearance preventing clogging and heat built up. Teeth are alternate & side set to minimize binding and friction, requiring less feed pressure. Ideal for mild steel (up to 1000 N/mm2 hardness), stainless steel, non-ferrous metals, aluminium, cast iron, copper, zinc.
Series 552, diamond dry Diamond grit edge hole saws have been specially developed for professionals that need to drill in extremely hard materials such as ceramic tiles (porcelain, gres, quarry, granite, hard stone), fiberglass, gypsum/plasterboard, fibercement board, Perspex®, where it is increasingly difficult to drill with conventional hole saws. These hole saws guarantee excellent performance and superior lifetime even in the hardest materials.