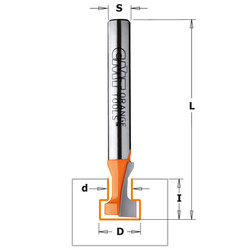 With the CMT keyhole bit you can make holes that keep your frames, plaques or any wall hanging perfectly straight and attached to the wall. The bit bores an entry hole in the wood, then proceeds to cut a 4,8mm (3/16") hole and finishes by boring a larger opening under the surface. The perfect way to securely mount wall hangings on screws and nails.
Safety tips: sure the workpiece is securely fastened to the router table or work bench.
Shop tips: recommended for use with a plunge router.