Hole Saws CMT HSS Bi-Metal Hole Saw 551 Series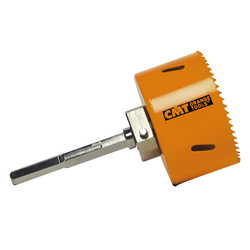 TECHNICAL FEATURES:
Perfect round back plate.
Fast & easy center drill change.
Thick steel body.
Premium bi-metal with 8% cobalt provides Xtreme results in performance and up to 50% longer lifetime than the competition.
Special tooth geometry with regular pitch provides a smoother cut and better chip clearance preventing clogging and heat build-up. Teeth are alternate & side set to minimize binding and friction, requiring less feed pressure.