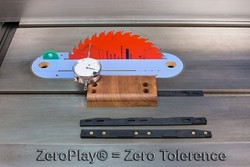 The ZEROPLAY GUIDE BAR is a unique miter bar system that is a vessel for your jig creations. Simply, insert the guide bar into any standard size miter slot or a Shopsmith miter slot and secure the guide bar into place with a turn of a supplied hex key. The ZEROPLAY GUIDE BAR is designed for woodworkers who enjoy creating jigs because with a ZEROPLAY GUIDE BAR the possibilities extend as far as your imagination.
MICROJIG provides some in-house jig plans with the system. Top-down installation is setting the ZEROPLAY GUIDE BAR apart from the rest of the market. Traditional miter bars require users to pull the bar out from one side of the slot, and then secure it from the bottom, then push it through the other end, and secure it again. However, the ZEROPLAY GUIDE BAR eliminated this because once you've installed the ZEROPLAY GUIDE BAR with a simple turn of the hex key; just hold it in place and secured it from the top down and you are done. MICROJIG offers two options for the ZEROPLAY GUIDE BAR one bar will get you started with smaller jigs, and the second option is two bars and two stops which allow users to build multiple jigs, and larger jigs by placing two ZEROPLAY GUIDE BAR systems in tandem. The ZEROPLAY GUIDE BAR is not designed for miter gauge use. Made in the USA.
Watch the Action Video!
Accurate miter stop that locks into the T-Track for precise stop cuts and blind rabbetting
Works as an anchor for hold-downs and clamps along the miter slot
Fits standard (3/4" x 3/8") T miter slots, ShopSmith and General miter tracks
THREE $5.00 OFF Sharpening Coupons included with purchase of this item.