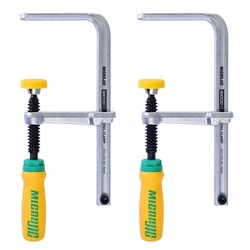 Create clamping tracks virtually anywhere by routing dovetail grooves. Featuring new soft-grip handles.
Exert versatile clamping pressure without interfering with the operation by containing the MATCHFIT Dovetail Clamp head arm within the dovetail groove. It expands creative freedom to build extension fences, tables, workspaces, and personalized track systems.
Breakthrough dovetail clamp arm design gives you the freedom to create your own track grooves allowing you to clamp virtually anywhere
Universally compatible only with 1/2" 14-Degree Router Bits
Build tall, stable fences and infeed tables for your table saw
Create a versatile dovetail clamp table with dog holes and many other work bench extensions
Make the 2-in-1 Straight Edge Guide to square ends of boards quickly and easily
Designed for creativity, engineered to work smarter.
Features new soft-grip handles
Clamping Range: 0 – 5.25" (0 – 133mm)
Clamp Pressure: 595 lbs open at 4" (270 kg open at 100mm)
Jaw Depth: 2.375" (60mm)
Minimum Dovetail Slot Length: 3.75" (95mm)
Dovetail Profile: 0.5" by 14º