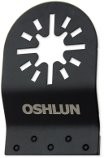 The Oshlun Uni-Fit mount system is one of the most universal on the market, allowing the blades to fit nearly all non quick-change oscillating tools.
FEIN® MultiMaster®
Bosch® Multi-X™ Uni-Fit Mount
Dremel® Multi-Max™ MM20, 6300 & 8300 Cordless
Craftsman® NEXTEC®
Skil® Multi-Tasker®
Milwaukee® M12®
Ridgid® JobMax®
Oscillating Tools with 3/8" round arbors
Notes: The Uni-Fit mount is not compatible with FEIN® SuperCut® or original Rockwell® Sonicrafter® Hex Tool unless using the OEM adapter (see note below for adapter information). Specific blades designed for these tools are also available under the MMR or MMS prefix.
The Uni-Fit mount is not compatible with quick change tools including Dremel® Multi-Max™ MM40, MM45 (Quick-Lock™ Version), Porter-Cable® PC250MTK® or PCE605K®. The Quick-Fit mount should be used for these tools.
Oshlun MMA-6001 2-1/2" Carbide Recessed Segment Grout Blade with Uni-Fit Arbor for Fein Multimaster, Dremel, and Bosch (1-Pack)
Oshlun's oscillating tool blades are the best value on the market with similar blades selling for 2 or even 3 times more. The carbide grout blade is great for removing old grout from tile joints. It can also be used to remove thin set or mortar and cut grooves in concrete. The recessed design allows flush cutting and the segmented design allows cutting into corners without damaging the adjacent material. The Uni-Fit mount system is compatible with FEIN MultiMaster, Dremel Multi-Max, Bosch Max Multi-X, Craftsman NEXTEC, Skil Multi-Tasker, Milwaukee M12, oscillating tools with 3/8" round arbors, and many more. The new design also allows 45 degree angle cutting with the MultiMaster. Notes: Not compatible with FEIN SuperCut or Rockwell SoniCrafter. All trademarks and tradenames are property of their respective owners. Approximately 0.090 thick. Sold as 1 pack.
Three $5.00 OFF Sharpening Coupons Included with purchase.