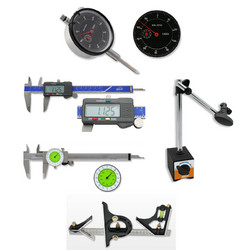 Explore a variety of measuring tools from Oshlun. These tools offer precision accuracy and incredible durability. Choose from Stainless Steel Digital Calipers, Stainless Steel Dial Calipers, Indicators and Gages, a Heavy Duty Magnetic Base, and 12" Combination sets.
Oshlun guarantees all of their products against defects in material and workmanship for the life of the product. This does not include normal wear and tear or improper usage.
FEATURES
Try/Miter Square
Depth Gauge
Height Gauge
Marking Gauge
Center Head
Square Head
Slotted and Etched 12" Stainless Steel Rule
Protractor Head
Double 180 Degree Protractor Scale
Plumb Level - Spirit Level - Scribe
Oshlun MTM-CS 12-Inch Combination Square Set features a slotted and etched stainless steel blade and a double 180 degree protractor scale. The set includes a square head, protractor head, and center head. It also features a try/miter square, depth gauge, height gauge, scribe, and spirit level. It is a must have for any builder and craftsman.
Three $5.00 OFF Sharpening Coupons Included with purchase.