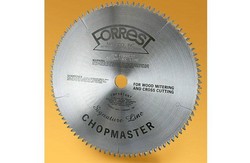 Check out the FORREST SIGNATURE LINE!

Forrest has designed the BEST Precision Trim Blade ever for sliding compound miter/chop saws. Manufactured with more teeth and hi-tech, proprietary tooth design for a quieter cut with even better splinter control. The alternate shear face design is superior for precise cutting of delicate pre-finished crown moulding, picture frame moulding and composite moulding.
Specially designed for chop, sliding compound miter saws and radial arm saws.
Made with double-hard C-4 Submicron Carbide for up to 300% longer life. A heavier than normal steel plate maintains maximum stability for the best cut. A negative face hook also adds to optimum rigidity when cutting. ATBR teeth diagram.
Each blade is hand-straightened to a runout of .001/.002 for maximum cut quality. The tooth style selected (4 points and flat) maximizes steady, clean cuts with no bottom splintering. Grabbing and throwing of scrap cut-offs has been minimized by our design. You will be surprised by the extra-smooth, tight miter cuts you will get with this blade.
THREE $5.00 OFF Sharpening Coupons included with purchase of this item.