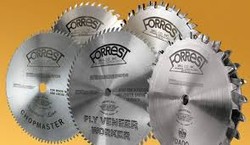 DESIGNED FOR THE DISCRIMINATING WOODWORKER!

We have combined the most popular Forrest blades for extra savings over our already discounted prices. Take advantage of these savings!
WHAT A DEAL! This assortment includes the NEW 48 Tooth Woodworker II, the NEW 12x90 Chopmaster Signature Line along with a 5" Dampener/Stiffener. SAVE $11.25 OFF OUR ALREADY DISCOUNTED PRICES! (Please indicate in the comment section of the check out section which Woodworker II kerf size you want, 3/32" or 1/8". Also, please tell us what size hole you need for the Chopmaster, 5/8" or 1").