Accessories Laser Guides Oshlun Radial Arm Saw Laser Guide Model LG-R01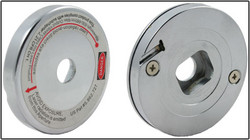 Oshlun 2nd generation laser guides are the easiest and best way to turn your saw into a precision cutting machine. Installation is fast and easy, simply replace the outer blade flange with the laser guide unit. There are no confusing parts or adjustments. The new design provides a brighter, more accurate line on the left of the saw blade kerf and improves safety by showing you where the blade will cut well before reaching the material. The centrifugal switch activates the laser automatically.
- Fits most radial arm saws and saws with a threaded 5/8-Inch arbor shaft
- New recessed laser design to protect the laser from hitting the material on deep cuts
- New thinner design to fit more saws
- New brighter and more accurate laser line
- Includes extra set of silver oxide batteries
Warning:
Read and follow all instructions that came with your saw. Never look directly into the laser beam. Do not use if the laser guide does not secure the blade properly.
Three $5.00 OFF Sharpening Coupons Included with purchase.