Oscillating Tool Blades OSHLUN Oscillating Tool Blades Quick-Fit Mount System NEW! Oshlun Universal Bi-Metal Oscillating Tool Blade with Quick-Fit Arbor for Standard and Quick Change Tools, 1-1/3-Inch, 10-Pack - Designed for Metal & Wood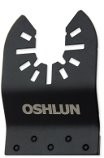 OSHLUN's new Quick-Fit mount system is even more universal with an open back which allows the blades to fit nearly all standard and quick change oscillating tools.
Uni-Fit Compatible Tools
Dremel® Multi-Max™ MM40, MM45 (Quick-Lock™ Version)
DeWalt® DWE315K® or DCS355D1®
Most Quick-Change Tools
Porter-Cable® PC250MTK® or PCE605K®
Rockwell® Sonicrafter® X2
Notes: The Quick-Fit mount is not compatible with FEIN® SuperCut® or original Rockwell® Sonicrafter® Hex tool unless using the OEM adapter (see note below for adapter information). Specific blades designed for these tools are also available under the MMR or MMS prefix.
ADAPTER INFORMATION: Uni-Fit and Quick-Fit blades can only be used on the FEIN® SuperCut® or original Rockwell® Sonicrafter® Hex tool if using and OEM adapter (not sold by Oshlun):
Rockwell® Sonicrafter® Adapter #RW9190
FEIN® SuperCut® Adapter #3-06-05-114-01-1
Oshlun's new QUICK CHANGE Bi-Metal blade can be used on nearly all oscillating tools with a quick change arbor design, including DeWalt, Porter Cable and Dremel. It will also fit many of the standard oscillatiing tools on the market.
Three $5.00 OFF Sharpening Coupons Included with purchase.