Saw Blades OSHLUN SAW BLADES FESPRO Series Oshlun 160mmx28T FesPro General Purpose ATB Saw Blade with 20mm Hole for Festool TS 55 EQ, DeWalt DWS520, & Makita SP6000K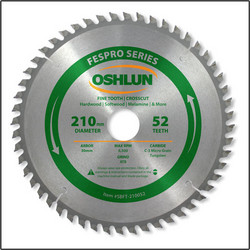 FEATURES
Festool®, DeWalt®, & Makita® Track Saw Blades
Festool® Kapex® Miter Saw Blades
Thin Kerf for Fast Cuts
Professional Grade Carbide
Laser Cut Expansion Slots
Precision Ground Carbide Tips
OSHLUN FesPro series blades have been specially designed for fast and smooth cutting with Festool®, DeWalt®, and Makita® track saws, as well as, the Festool® Kapex® sliding compound miter saw. There are blades available for cutting hardwood, softwood, melamine, plastic, and aluminum. The long-lasting micro grain carbide tips are precision ground to ensure a smooth finish. Kapex® blades also feature anti-vibration slots for super smooth cutting.
Fits: Festool TS 55 EQ or ATF 55 E & DeWalt DWS520 & Makita SP6000K
Universal General Purpose Blade for Hardwood, Softwood, Plastics, and More
Professional Grade C-3 Carbide
Hook Angle: 15 Degree
Kerf: 2.5mm
Oshlun SBFT-160028 160mm 28 Tooth FesPro General Purpose ATB Saw Blade with 20mm Arbor for Festool TS 55 EQ, DeWalt DWS520, and Makita SP6000K. Designed to produce industrial quality cuts at an affordable price with a Festool, DeWalt, and Makita track saws. They feature micro grain tungsten carbide tips, laser cut expansion slots, and a thin kerf. The long lasting C-3 carbide tips are precision ground to ensure smooth cuts. All trademarks and trade names are property of their respective owners.
Three $5.00 OFF Sharpening Coupons Included with purchase.