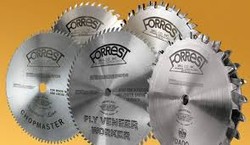 DESIGNED FOR THE DISCRIMINATING WOODWORKER!

We have combined the most popular Forrest blades for extra savings over our already discounted prices. Take advantage of these savings!
This is must for serious woodworkers! Get the most out of your 10" blades. Use the 4" Dampener/Stiffener when cutting 3" thick stock, the 5" for stock up to 2" and the 6" for 1" or under for MAXIMUM performance. ALL FOR A SAVINGS OF $7.98 OFF OUR REGULAR DISCOUNTED PRICES.
DON'T WAIT! ORDER TODAY!