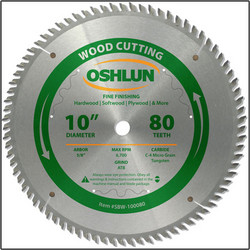 Oshlun fine finishing blades have been designed for the cleanest crosscutting of all types of hardwood and softwood with miter, chop, table, and radial arm saws. All feature precision ground micro grain carbide tips, while the 10" and larger also feature copper plugged expansion slots for less noise and vibration. Great for crosscutting applications where a very smooth cut is needed.
FEATURES
Professional Grade C-4 Carbide
Copper Plugged Expansion Slots
Positive Hook Angle
Precision Ground Carbide Tips
Tensioned & Hardened Steel Plate
Surface Ground Steel Plate
SBW-080064 saw blade has a 5/8" hole with a diamond knockout.
Three $5.00 OFF Sharpening Coupons Included with purchase.