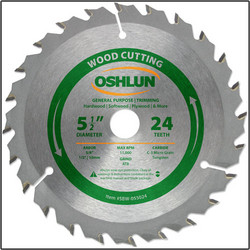 FEATURES
Super Thin Kerf for Fast Cuts
Professional Grade C-3 Carbide
Expansion Slots to Prevent Warping
Anti-Kickback Tooth Design
Aggressive Hook Angle
Precision Ground Carbide Tips
Oshlun general purpose and trimming blades have been designed for quick, clean cutting with select portable saws. They are ideal for cutting all types of hardwood, softwood, and plywood. The super thin kerf allows extended battery life with cordless machines. The long-lasting micro grain carbide tips are precision ground to ensure the best possible cut.
Super Thin Kerf for Fast Cuts
Professional Grade Carbide
Aggressive Hook Angle
Fits: Makita, Craftsman, Skil and Ryobi
Precision Ground Carbide Tips
Has 5/8" Hole and comes with 1/2" and 10mm bushings.
Three $5.00 OFF Sharpening Coupons Included with purchase.