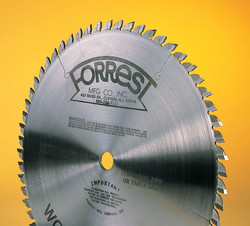 WOODWORKER I saw blades are designed for radial and table saws.
These trim and cross-cut ALL PURPOSE blades give scratch-free POLISHED cuts on wood. Crosscut up to 2" thick. Rip up to 1" thick. They have 30° alternate top bevel (ATB) with a 5° face hook on 10" diameters and small, and 20° ATB on 12" diameters and larger.
The WOODWORKER I saw blade is made with double-hard and 40% stronger C-4 carbide for extended life between sharpenings and reduced yearly sharpening costs.
Note: Our
stiffener
is strongly recommended to be used against the outside of the blade for the smoothest cuts
The thin-kerf design of the WOODWORKER I saw blade:
Saves 1/4 wood loss on each cut
Feeds easily when used for moderate rips and crosscuts on a table saw
Reduced "Jump In" for better "Pull-Control"
Eliminates bottom splintering on radial crosscuts
With new 30° ATB tooth style this blade completely stops all bottom and top splintering on ply veneers on both radial and table saw machines
MOST WOODWORKER I's ARE IN STOCK FOR QUICK SHIPMENT!
NEW WOODWORKER I for the FESTOOL KAPEX KS 120 Sliding Compound Miter Saw. Great general purpose blade with Forrest quality results. Features +20 ATB, +5 Degree face hook with 30mm hole.
Now offering Concentrated
SUPER BRITE
Saw Blade Cleaner which quickly cleans pitch and grime from all types of saw blades and router bits for only $14.99. One 16 oz.. concentrate makes over 2-1/2 gallons when diluted as per instructions. Can be continually reused. Comes with convenient spray applicator, full instructions and MSDA sheet (Material Safety Data Sheet).
Three $5.00 OFF Sharpening Coupons Included with purchase.