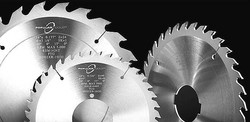 Glue Joint Rip Blades are designed for ripping solid wood when you require an extra-smooth cut such as cutting solid pieces that will be glued together. The tight manufacturing tolerances of Popular Tool blades and a runout of .002" or less, will provide smooth rip cuts.
Blades have a 20º hook angle and should be used for rip cuts only. Glue joint rip saw blades can be bored out to fit most gang rip saws.
For Raimann Rip Saw with 4 small 7 mm pins & 2 large 14mm pins, plus 2 keyways.
Three $5.00 OFF Sharpening Coupons Included with purchase.