Saw Blades AMANA TOOL Glue Line Rip Amana 10" x 30T Glue Line Rip Saw Blade - $15.00 OFF Sharpening Offer Included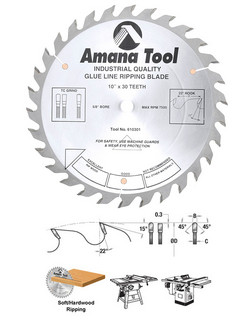 Amana Glue Line Ripping Saw Blades
10" to 14"
22 degree Hook
Trip Chip (TCG) Grind
Rip then glue up. With these exceptional blades, there's no need for sanding or jointing after the cut. The precision triple-chip grind & extra-high hook angle allow aggressive feed rates, yet produces an extra-smooth cut finish. The thick plate minimizes vibration.
Use on table saws, sliding table saw, single and gang-rip operations.
Rip then glue ip, no need for sanding.
10 Inch x 30 Teeth Triple Chip grind.
22 Degree Hook Massive tool steel plate, with laser cut expansion slots allowing the blade to expand and contract from heat preventing warpage.
Extra large carbide teeth provide more resharpenings.
Copper Plugs to reduce noise and vibration during operation.
Tension rings which maintains the blades straightness under stress of operation.
Three $5.00 OFF Sharpening Coupons Included with purchase.