Saw Blades AMANA TOOL Heavy Duty Rip Amana 10" x 20T Heavy Duty Rip Saw Blade - $15.00 OFF Sharpening Offer Included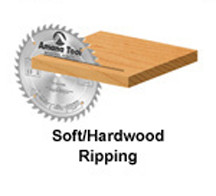 Ripping Heavy-Duty
Heavy-duty production ripping is this blade's forte. It has all the features needed for use with power feeders and gang-ripping operations: a low tooth count, flat-top ground, deep gullets for efficient chip clearance and a thick plate for reduced vibration.
Use for ripping of Soft/Hardwoods.
18° Hook, Flat Top Grind, Carbide Tipped; 10" Diameter; 20 Tooth; 5/8" Bore; .150" Kerf; .095" Plate
Three $5.00 OFF Sharpening Coupons Included with purchase.