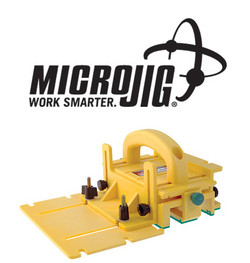 Enjoy the ultimate workshop companion! This advanced model of the GRR-Ripper utilizes all the same innovative features of the GR-100 but comes with two additional accessories that improve the control and expandability of the GRR-Ripper System. The GR-200 is built to meet the needs of the professional woodworker or extreme hobbyist. With enhanced versatility features, the GR-200 will perform operations that were before very dicey and time-consuming with ease and speed. Whether you are making razor-thin veneer strips, building miniatures, or creating exquisite furniture you will save time, materials, and fingers with the GRR-Ripper. The GR-200 includes these additional accessories:
The Adjustable Spacer - This accessory adds increased gripping surface for tackling larger stock. It also adds one inch of cutting width to the GRR-Ripper. Also, acts as a secondary balance support for small stock and straight-line ripping. Great add-on for working on the Router Table, and eliminating snipe.
The Stabilizing Plate - The Stabilizing Plate adds a new dimension of control to the GRR-Ripper. It is particularly useful when cutting small narrow pieces of stock. Perfect for trickier cuts like resawing, bevel edging, pattern routing, and much more.
The Stabilizing Plate also performs as the secondary fence that travels with the GRR-Ripper along the left side of the stock. It holds the off-cut piece in its original position through the entire cutting operation. Some users call it a "Feather Board Plate" without the force to pinch the stock into the saw blade.
GRR-RIPPER Gravity Heel Accessory is a fully adjustable heel with auto-retracting technology for reducing blowout. ROUTER TABLE Gravity Heels provide a secure backing to routing operations to prevent blow out. It can also be used as a template for repeat routing.
The Gravity Heels are exceptional with long stock; they grab the tail end of your board and automatically retract mid-board.
BANDSAW Smoother, safer andmore controlled cuts on the bandsaw will be second nature with the adjustability of the Gravity Heel.
TABLE SAW Virtually eliminate tear out and increase control and stability when feeding long or short stock.
The Gravity Heel is a fully adjustable heel with auto-retracting technology to provide commanding pushing power. Hooks the tail end of your workpiece and automatically retracts mid-board. Provides extra leverage to help push through and cut and preven blow out. Kit includes 5 Heels, 2 Heel Spacers and mounting hardware. Adjustable from 0-1". Fits any existing GRR-RIPPER. Replacment Heels available in packs of 5.
Three $5.00 OFF Sharpening Coupons Included with purchase.