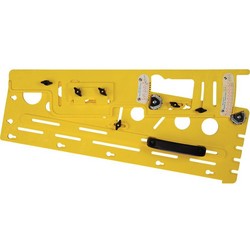 Micro Jig's Microdial Tapering Jig allows you to consistently create the most accurate tapered and angled cuts with absolute precision and safety. This great innovation from Micro Jig allows you to make hassle-free adjustments between repeat cuts with the advnaced, built-in memorylock technology.
Use the interlocking colormatch system to ensure you get just the right angle for your taper. Choose an angle between 0 to 10 degrees in 1/8th degree increments.
Micro Jigs Tapering Jig allows you to switch quickly and easily between two different tapers on a single work piece with the Memorylock System. The memorylock System maintains two independant stops for you.
Create something truly unique. Use the Taper Jigs preceision guage to create unique and uncommon table legs with up to 8 tapered sides.
Get great versatility- This Taper Jig is the only taper jig that can be used with a router table to create custom tapered profiles and a truly unique signature look.
Precision taper cuts as accurate as 1/8 of a degree
Cut up to 8-sided tapered legs together with the GRR-RIPPER 3D Pushblock
Infinite taper adjustments between 0 and 10 degrees
Two independent MemoryLocks keeps angles for repeat taper cuts
Full instructional DVD and bonus project plans included
The MICRODIAL Tapering Jig by MICROJIG helps you achieve cutting edge tapers. You will be able to create tapered legs with up to eight tapered sides. Meanwhile, tapers can be cut from an infinite range between 0˚ to 10˚ with 1/8˚ incremental stops. You can also adjust tapers between 0 to 2 inchers with 1/16 inch intervals.
Once decided, the two adjustable dials then will lock into your preferred configuration, and lock the two MemoryLocks to allow easy repetitive cuts of the same taper. The MICRODIAL comes with an instructional DVD and instruction manual.
Combine the MICRODIAL with your GRR-RIPPER Advanced Model (Sold Seperately) to enhance your safety and woodworking. The addition of the GRR-RIPPER will allow users to pressure in three dimensions: downward, inward, and forward; this will virtually eliminate kickback and should alwasy be used when cutting narrow or small workpieces.
Made in the USA. Watch the Action Video!
THREE $5.00 OFF Sharpening Coupons included with purchase of this item.