Zero-Clearance Inserts Zero-Clearance Inserts General #JT-8 Leecraft Zero-Clearance Table Saw Insert 14"L x 4-1/8"W WITHOUT Riving Knife Slot for dado or angled cuts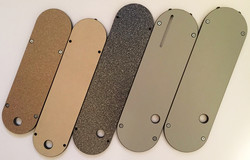 Find the Leecraft Zero-Clearance Insert for your General Table Saw
Model GE-1 13-13/16"L x 3-1/2"W x 3/8"T - Fits General models 350 (Right Tilt), 650 (Left Tilt)
Model GE-2 14-31/32"L x 3-23/32"W x 3/16"T - Fits General International 50-220, 50-090K
Model GE-3 12-9/16"L x 3-9/16"W x 3/8"T - Fits General International models 50-075, 50-175, 50-185, 50-250, 50-260
Model JT-7 14"L x 4-1/8"W x 1/2"T - Fits General model 50-090R M1 (With Riving Knife)
Model JT-8 14"L x 4-1/8"W x 1/2"T - Fits General model 50-090R M1 (Without Riving Knife)
For step-by-step installation video CLICK HERE
#JT-8 Leecraft Zero-Clearance Table Saw Insert 14"L x 4-1/8"W WITHOUT Riving Knife Slot for NEW Jet JPS-10TS ProShop, Jet #708490, #708491, #708492, #708493, #708494, #708495. Use for dado or angled cuts. Also fits the 1.75 HP 10" Laguna Fusion saw, Grizzly: G0661, G0713, G0732 and Baileigh TS-1044H.
The Zero Clearance concept is simple: the blade cuts its own perfectly sized slot by being raised through a machinable "blank" insert. Most inserts are 1/2-inch thick, high-density phenolic laminate, with a bonded-melamine surface. They offer superior rigidity, flatness, durability, and low friction and should not be confused with inferior HD/PP inserts. There's just no comparison! They feature leveling screws, side and end adjustment screws for a vibration-free fit, rear safety pin for lift-out protection, and a pre-cut blade bottom pocket that provides clearance for fully retracted blades and bevel cuts. (Some inserts use OEM screws to hold inserts in place). Instructions also included. Use carbide-tipped blades only. A pre-cut starter pocket makes cutting the clearance slot easy and a finger hole makes for simple removal and hanging. Colors may vary. Made in USA.
Use MicroJig MJ Splitter Kits for added table saw safety. Available in THICK or THIN kerf they are easily installed and simple to align. Not for use with Leecraft inserts that already have the riving knife slot cut in. Intended for inserts WITHOUT the riving knife slot.