Zero-Clearance Inserts Zero-Clearance Inserts DeWalt #DW-2 Leecraft Zero-Clearance Table Saw Insert 13-9/16"L x 3-3/4"W for Straight, Single Blade Cuts - OUT OF STOCK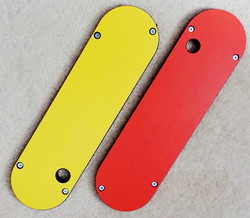 Find the Leecraft Zero-Clearance Insert for your DeWalt Table Saw
Model DW-2 For Straight, Single Blade Cuts
Model DW-3 For Dado or Angled Cuts
Both inserts measure 13-9/16"L x 3-3/4"W x 1/2"T - Fits DeWalt models DW744, DW745, DW746, DWE7480, DWE7490X, DWE7491RS, DWE7499GD.
PLEASE NOTE: Factory splitter/guard on table saw models DW744 & DWE745 is incompatible with DW-2 and DW-3. There isn't enough room for the slot. Please read manufacturer's comments when you click on the inserts. You may consider using a MicroJig Splitter Kit in place of the riving knife that comes with the saw.
For step-by-step installation video CLICK HERE
Fits DeWALT: DW744 & DW745 Portables (factory splitter/guard incompatible with DW-2 insert on these saws) & DW746 (Stationary Saw), DWE7480, DWE7490X, DWE7491RS & DWE7499GD.
NOTE FROM THE MANUFACTURER
: The old models DW744 & DW745 (portable saws) cannot use factory SPLITTER with DW-2 insert. The required slot (all the way out the back end of the insert) nearly cuts the insert in two, rendering it springy, weak, and unsafe. Think of an old fashioned wooden clothes pin… only held together at one end, and the "legs" can easily be flexed apart or towards each other. Works great for holding clothes on a line, but the opposite of what's needed for a table saw insert, where you need structural integrity and stability. These are great applications for the
Microjig splitter.
This may also apply to the DW746, which was a larger contractor type saw with cast iron table; same splitter design. The newer models (all the others) employ a RIVING KNIFE, which allows for a shorter slot, and a structural "bridge" to remain at the back end of the insert. Obviously, the plate becomes weaker and weaker, the smaller this bridge is, as the RK slot gets closer to the edge. The riving knife (RK) slot is essentially an extension of the blade slot, or kerf. The kerf is, of course, created by simply raising the blade through the blank insert, to the maximum elevation. The operator must then extend the kerf (slot) by means of a secondary procedure, to safely create a slot that sufficiently clears the RK. This "secondary procedure" requires a higher level of understanding, skill, and creativity.
Use MicroJig MJ Splitter Kits for added table saw safety. Available in THICK or THIN kerf they are easily installed and simple to align. Not for use with Leecraft inserts that already have the riving knife slot cut in. Intended for inserts WITHOUT the riving knife slot.
INSTALLING AND FITTING YOUR INSERT
Lower the blade completely.
Place insert in table with finger hole at front and starter pocket located over blade.
Run leveling screws down until insert is stable and flush with table top.
Back out side adjustment screw, then front end adjustment screw to achieve a fit that is snug, yet removable.
SPLITTER: DW744: This insert CAN NOT be used with the factory splitter. We recommend purchasing (call for sources) or making a pin or blade type splitter which is mounted to the insert itself, just behind the blade slot. DW746: To use factory splitter, you'll need to cut a short slot at the rear of the insert to accommodate it, using a bandsaw or hacksaw. Leave the "bridge" between the splitter slot and the blade slot as thick as possible.
CUTTING THE BLADE SLOT (KERF)
Check that insert is fitted properly, and that blade is clear. Using a stick, reach under the table and rotate the blade manually to check for blade clearance.
Fully cover the insert with a board, and clamp at each end to the table saw top.
Re-connect power to saw. Switch on, slowly and cautiously raise blade up, to cut its way through the insert. KEEP HANDS OFF OF TABLE TOP, STAY CLEAR AND WEAR GOGGLES. Raise blade to maximum height at this time.
Lower blade, turn off saw, and remove board. Your insert is now ready for use!
IMPORTANT TIPS FOR USE
Only recommended for use with carbide tipped cutters.
DADO BLADE - Use same procedures outlined above, but use additional caution due to excessive material being machined from insert during the slotting procedure.
Under certain conditions, an undesirable scraping noise may be generated by your saw blade. Planer type blades and/or excessive arbor run-out, and/or blade distortion, may be causing intermittent contact with the insert slot. To remedy this, remove the insert and slightly widen the slot using a file or sanding paddle.
Ideally, a separate insert should be used with each blade, dado stack, or angle set-up. This will insure a true "zero-clearance" effect and give you maximum benefit from your inserts.