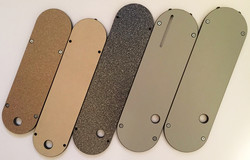 Find the Leecraft Zero-Clearance Insert for your General Table Saw
Model GE-1 13-13/16"L x 3-1/2"W x 3/8"T - Fits General models 350 (Right Tilt), 650 (Left Tilt)
Model GE-2 14-31/32"L x 3-23/32"W x 3/16"T - Fits General International 50-220, 50-090K
Model GE-3 12-9/16"L x 3-9/16"W x 3/8"T - Fits General International models 50-075, 50-175, 50-185, 50-250, 50-260
Model JT-7 14"L x 4-1/8"W x 1/2"T - Fits General model 50-090R M1 (With Riving Knife)
Model JT-8 14"L x 4-1/8"W x 1/2"T - Fits General model 50-090R M1 (Without Riving Knife)
For step-by-step installation video CLICK HERE
#GE-1 Leecraft Zero-Clearance Table Saw Insert fits GENERAL International: 350 (Right Tilt) & 650 (Left Tilt)
Use MicroJig MJ Splitter Kits for added table saw safety. Available in THICK or THIN kerf they are easily installed and simple to align. Not for use with Leecraft inserts that already have the riving knife slot cut in. Intended for inserts WITHOUT the riving knife slot.
INSTALLING AND FITTING YOUR INSERT
Lower the blade completely.
Place insert in table with pin at rear and starter pocket located over blade.
Run leveling screws down until insert is stable and flush with table top. Use 3/32" hex key (Allen wrench).
Back out front end-adjustment screw and side adjustment screw to achieve a fit that is snug, yet removable. NOTE: To remove insert, bump the heel of your hand on rear of insert (behind leveling screws) and front of insert should pop up slightly. Alternatively, a 3/4" diameter finger hole could be bored into front of insert to facilitate removal.
If the insert will not go down flush with table top because it is resting on top of blade, then raise up using leveling screws until insert is sitting steady slightly above tabletop. This should provide adequate clearance for blade.
SPLITTER: If your saw has a splitter, you will need to cut a slot at the rear of the insert to accommodate it. Trace the outline of the slot from your original metal insert, and cut with bandsaw or hacksaw. Leave the bridge between the splitter slot and the blade slot as thick as possible.
CUTTING THE BLADE SLOT (KERF)
Check that insert is fitted properly, and that blade is clear. Using a stick, reach under the table and rotate the blade manually to check for blade clearance.Fully cover the insert with a board, and clamp at each end to the table saw top.
Re-connect power to saw. Switch on, slowly and cautiously raise blade up, to cut its way through the insert. KEEP HANDS OFF OF TABLE TOP, STAY CLEAR AND WEAR GOGGLES. Raise blade to maximum height at this time.
Lower blade, turn off saw, and remove board. Your insert is now ready for use!