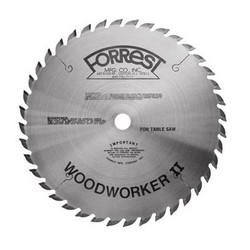 WOODWORKER II saw blades are designed for the advanced table saw operator. MOST MODIFIED WOODWORKER II's ARE IN STOCK AND READY TO SHIP FOR 2-3 BUSINESS DAY DELIVERY!
Custom Woodworker II blades are made with double-hard sub-micron C-4 carbide which is 40% stronger and will give up to 300% longer life between sharpenings.
Features of the WOODWORKER II saw blade:
20° face hook for easy feed
Double-hard and 40% stronger C-4 carbide will give up to 300% longer life between sharpenings
Side wobble is held to .001" - with other brands .004/.010 is common!
Check out which Custom Woodworker II saw blade will work best for your application! IF YOU DON'T SEE WHAT YOU NEED ON OUR SITE GIVE US A CALL AT 716-685-4458.
Custom Woodworker II for square cut box and finger joints. Produces 1/8" kerf grooves.
Now offering Concentrated SUPER BRITE Saw Blade Cleaner which quickly cleans pitch and grime from all types of saw blades and router bits for only $14.99. One 16 oz.. concentrate makes over 2-1/2 gallons when diluted as per instructions. Can be continually reused. Comes with convenient spray applicator, full instructions and MSDA sheet (Material Safety Data Sheet).