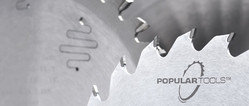 A specially-formulated carbide makes cutting all types of non-ferrous metal simple and easy. Cut sheets, extrusions, or light solids of aluminum, copper, and brass.
Clamp material firmly and lubricate blade with cutting fluid. Do not use on steel or other ferrous metals.
Three $5.00 OFF Sharpening Coupons Included with purchase.