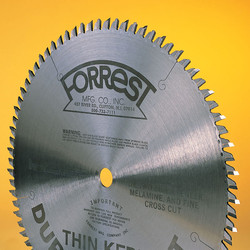 DURALINE HI-A/T saw blades are designed for chipless cutting of two-sided melamine (MCP board), vinyl, polyester, kortron and veneer plywood. No scoring blade needed! These blades are made with double-hard C-4 submicron carbide for longer life between sharpenings.
Recommended for thin, low pressure, two-sided laminates, plywood and fine cross cutting on all woods. For thin veneers on flakeboard - fire-retardant, laminated (1 or 2 sided), masonite, hard board, fibre board, etc. Also for plywood - veneered, lumbercore, glue-ups, hard and soft woods, chemically impregnated, etc.
The DURALINE HI-A/T eliminates the need for a small scoring saw blade on table saw work. The 40° points slice through thin bottom layers with no tears or chips. Reduced yearly sharpening costs - Less machine downtime.
MOST DURALINE Hi-A/T's ARE IN STOCK FOR QUICK SHIPMENT!