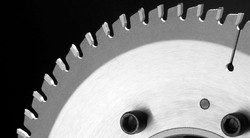 These saws are designed similar to the General Purpose saw but with a negative hook angle to prevent grabbing. This saw provides excellent crosscuts on all materials. For cutting Non-Ferrous,
check Non-Ferrous Cutting Saws
.
POPULAR TOOLS 16"x60T, ATB Chop Saw & Radial Arm Saw Blade with 1" Hole, -2 degree face hook is designed to cut thick wood or framing material.
Three $5.00 OFF Sharpening Coupons Included with purchase.